The Jigsaw daytradr application is used to transfer trades in real time from your PC (or server) to the Journalytix Servers.
You do not need a daytradr license to run the application. You can simply enter your Journalytix credentials to connect daytradr to your trading platform.
Step 1 - Log on to https://app.journalytix.me click your name in the top right and click "Account Settings" and then "Download"
Step 2 - Download the latest version of "Jigsaw daytradr", then run the downloaded installer. If you get a message from your browser during download, then click "More Info" and "Run Anyway" or "Download Anyway"
Step 3 - Run the daytradr application and Click "File -> Options". You will see the following screen: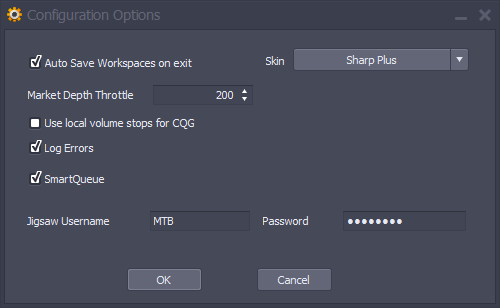 Step 4 - Enter your journalytix username and password and click OK
Step 5 - Restart daytradr application (close and reopen it)
Step 6 - Set up the connections to your platform/data feed following the instructions in the Jigsaw daytradr manual
•Trading Technologies XTAPI (XTrader)
•Trading Technologies REST API (See notes below)
Note that Trading Technologies REST API allows server integration so that multiple traders account information can be uploaded from a single instance of TT REST API. See Assign Account for more details of how to assign accounts to specific Journalytix users.