News on the Day Overview can be filtered. Filters allow us to see just the news relevant to us. For instance, Trump tweets are currently very influential and able to move the market, as are comments from Angela Merkel and Jean-Claude Junker. Then there's more generic terms like "Oil", "Dollar", "ECB" we might want on our radar all the time. You can add the search terms in the box above the news in the Day Overview.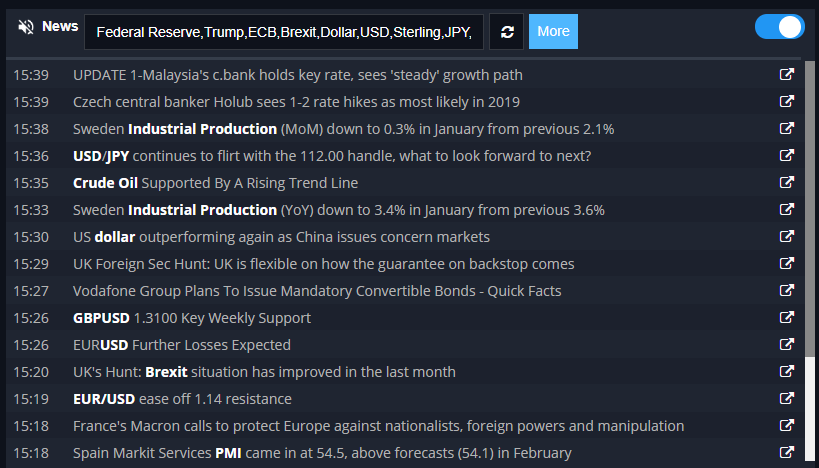 You can also click

for a larger window to enter more terms, like this: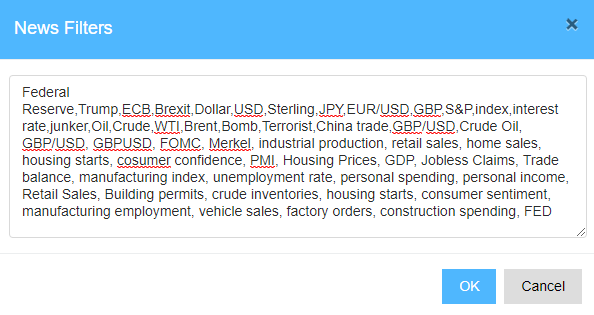 Here's a good set of filters to get you started:
Federal Reserve,Trump,ECB,Brexit,Dollar,USD,Sterling,JPY,EUR/USD,GBP,S&P,index,interest rate,junker,Oil,Crude,WTI,Brent,Bomb,Terrorist,China trade,GBP/USD,Crude Oil, GBP/USD, GBPUSD, FOMC, Merkel, industrial production, retail sales, home sales, housing starts, cosumer confidence, PMI, Housing Prices, GDP, Jobless Claims, Trade balance, manufacturing index, unemployment rate, personal spending, personal income, Retail Sales, Building permits, crude inventories, housing starts, consumer sentiment, manufacturing employment, vehicle sales, factory orders, construction spending
After changing filters click the refresh

button next to the search term box.
Terms must be separated with a comma.
Terms can be one or more words between the comma, like Federal Reserve.
Your filters will be remembered, so there's no need to enter them each time you use the day overview.
As new news comes in, you will only see the news that matches your filters.
News audio reader will also only read out the news that matches your filters.
The following "Stop Words" will be ignored by the search:
a
about
an
are
as
at
be
by
com
de
en
for
from
how
i
in
is
it
la
of
on
or
that
the
this
to
was
what
when
where
who
will
with
und
the
www